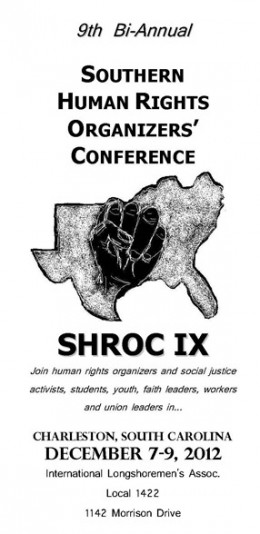 Join human rights and social justice activists, students, youth faith leaders, workers, and union leaders in Charleston!
A two-part Southern Workers Assembly Strategic Planning meeting will be held at SHROC. This meeting will further tighten up the SWA and map out next steps to become an active and visible movement to organize a labor movement in the South.
The first part of the Strategic Planning meeting will start on Friday Dec 7 at 12pm – 2pm and the second part will by on Saturday Dec 8 at 2pm – 4pm.
Conference Location: International Longshoreman's Association Local 1422 Union Hall
1142 Morrision Drive Charleston SC 29403
For more information and to register visit www.southernhumanrights.org