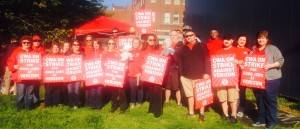 Verizon workers helped the company make $39 billion in profits over the last three years—and $1.8 billion a month in profits over the first three months of 2016. But that's not enough for Verizon.
The company's greed knows no bounds. While the company continues to demand working people give back more and more, Verizon CEO Lowell McAdam made $18 million last year. That's more than 200 times the compensation of the average Verizon employee!
These Verizon workers have been working with an expired union contract since August 2015.
The Southern Workers' School, a project of the Southern Workers Assembly in session tonight April 12, 2016 composed of workplace union activists from 8 Southern states pledges its solidarity and support to the 40,000 sisters and brothers about to go on strike for a just contract against Verizon organized by the Communication Workers of America (CWA) and the International Brotherhood of Electrical Workers (IBEW) unions from Virginia through Pennsylvania.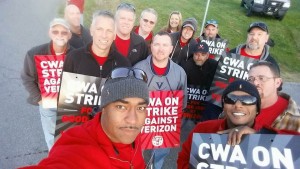 WE reaffirm the absolute necessity for collective bargaining rights enforced by the right to strike for Verizon workers and for all workers regardless of employment status.
WE affirm the necessity for Verizon to continue and improve employee benefits and wages particularly in these times of rising income inequality and working class insecurity.
WE point out that continual downward pressures by corporations on working class wages and benefits is not only bad for working people and our families but also for our communities and our world.
WE will take support action in the southern states where the strike will take place and where the member organizations involved in the Southern Workers' School exist.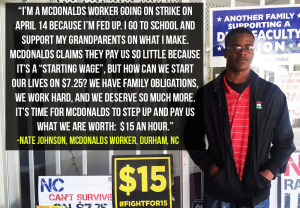 Learn more about the Verizon strike:
Join and find a picket line near you!!
Statement Signers:
Organizations:
Southern Workers Assembly
UE local 150, NC Public Service Workers Union
National Nurses Organizing Committee – Florida
National Nurses Organizing Committee – Texas
Black Workers For Justice
Southern Workers Organizing Committee/Raise Up for $15
Appalachian Workers Alliance
Boston School Bus Drivers Union, USW local 8751
Muslims for Social Justice
Organize2020 Caucus of NC Association of Educators
Individuals:
Saladin Muhammad, UE* Retired/ Black Workers for Justice*, Rocky Mount, NC
Larsene Taylor, President, UE Local 150/BWFJ*, Goldsboro, NC
Angaza Laughinghouse, Vice President, UE local 150, NC Public Service Workers Union, Raleigh, NC
Justin Flores, Vice President, Farm Labor Organizing Committee*, Dudley, NC
Ed Bruno, Retired Southern Regional Director National Nurses Organizing Committee/National Nurses Union*, Tampa, FL
Peter Knowlton, General President, United Electrical, Radio and Machine Workers of America (UE)*, Pittsburgh, PA
Chavel Lopez, Southwest Workers Union*, San Antonio, TX
Deborah Casey, Norton Area Vice President, CWA local 2204*, Roanoke, VA
Sandra Wakefield, National Nurses United/NNOC-TX, El Paso, TX
Charles Brave, Vice President, SC AFL-CIO*, ILA local 1422*, Charleston, SC
Leonard Riley, ILA local 1422*, Charleston, SC
Shafeah M'Balia, Black Workers for Justice*, Savannah, GA
Lutalo Tyehimba, ILA local 333*/Ujima People's Progress Party*, Baltimore, MD
Martha Grevatt, Civil and Human Rights Committee, UAW Local 869*, Detroit, MI
Donna Dewitt Retired, CWA local 3719*, Orangeburg, SC
Erin McKee President, SC AFL-CIO*, Columbia, SC
Freddie Coakley, ILA local 1422*, Charleston, SC
Deb Gornall, President, Eastern Region UE*, Erie, PA
April Lofton-Beach, UE local 160*, Petersburg, VA
Vera Nedrick-Jones UE local 160 VA Public Service Workers Union*, Petersburg, VA
Abdul Burnette, Raise Up for $15, Durham, NC
Gary L. DeLuke UE Local 170 – West Virginia Public Workers Union*, Charleston, WV
Benji Piles, Appalachian Workers Alliance*, Huntington, WV
Don Cavellini, Co-Chair, Pitt County Coalition Against Racism*, Greenville, NC
Bryan Pfeifer, Roanoke Education Association*, Roanoke, VA
Khem Irby, Guilford County Education Association (NEA)*, Greensboro, NC
Bonita Johnson,  UE150, Butner, NC
Darrion Smith, UE150, Butner, NC
Tiffany Downey, UE150, Butner Chapter Recording Secretary, Butner, NC
Daryl Brunson, UE150, Durham, NC
Brenda Hines, Black Workers for Justice*, Burlington, NC
Dante Strobino UE*, Durham, NC
Will Cox, NC Healthcare Workers United (Winston-Salem Organizing Committee) *
Isolene Peele, UE150, Durham, NC
Ben Carroll, Raise Up for $15, Durham, NC
Enrique C. Alba, Jornaleros Unidos de Woodside*, NYC, NY
Roberto Meneses, Jornaleros Unidos de Woodside*, NYC, NY
Gustavo Medina, UFT/Independent Workers Movement*, NYC, NY
Minnie Bruce Pratt, UAW Local 1081/National Writers Union*
Chris Nelson, Healthcare Workers United*, Charleston, SC
Wendy Williams, Healthcare Workers United*, Charleston, SC
Tyaisha Williams, Black Workers for Justice*, NC
Dennis Orton, UE* / BWFJ*, Virginia
Steve Bader, UE* International Representative, WV/NC
David Cohen, UE* Retired, MA
Greg Butterfield, National Organization of Legal Services Workers, UAW Local 2320*
Susan E. Davis, National Writers Union, United Auto Workers Local 1981*
Eric Fink, Greensboro, NC
Rita Valenti, National Nurses Organizing Committee*, Atlanta, GA
Dianne Mathiowetz, retired UAW local 10, producer, The Labor Forum, WRFG 89.3FM, Atlanta, GA
---