Build Worker Power in the South - Join the Southern Workers Assembly
The Southern Workers Assembly (SWA) is a network of local unions, worker organizations, and organizing committees, committed to building rank-and-file democratic social movement unionism in the South. Learn more >>>
Safe Jobs Save Lives Campaign
Workers across the US South are on the move demanding workplace safety amidst the global COVID-19 pandemic. Southern workers also need a strategy and self-organization to secure any gains they make through collective action. Learn more >>>
Southern Workers Fight for Medicare for All
The Southern Workers Assembly is building a workers-led, Southern movement for Medicare for All. Learn more >>>
A Workers Guide to Meatpacking / Una guía para trabajadores sobre la industria de productos cárnicos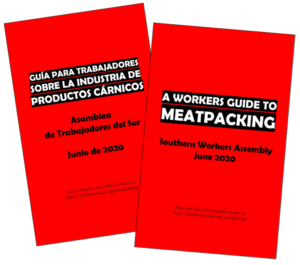 Bilingual English-Spanish!
A new booklet from the Southern Workers Assembly
¡Bilingüe español-inglés!
Un nuevo folleto de la Asamblea de Trabajadores del Sur
In 2014, four members of FLOC courageously spoke out against issues at Burch Farms in Faison North Carolina, exposing violations that many of their coworkers were too afraid to speak about. They...
read more
Mississippi union organizers at Nissan vow to fight on Company threatened workers By Martha Grevatt posted on August 9, 2017 In July, union organizers at the Canton, Miss., Nissan vehicle assembly...
read more
SWA leaders got to meet with Nissan workers in Mississippi at the Dec. 9-11 Southern Human Rights Organizing Conference. They also joined a solidarity rally in front of their plant. They are...
read more
Verizon workers helped the company make $39 billion in profits over the last three years—and $1.8 billion a month in profits over the first three months of 2016. But that's not enough for Verizon....
read more
Aug 9: All Out for Solidarity City! Workers Fighting To Organize the South! August 9 | 10am-5pm | 803 Harris St, Goldsboro, NC Visit the Facebook Event Page On Saturday, August 9 workers from across...
read more