Solidarity with Bessemer, Alabama Amazon Workers!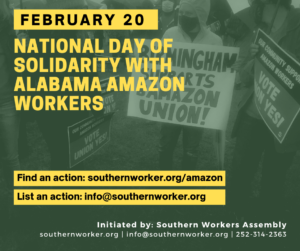 Between Feb 8, and March 29, approximately 6,000 Amazon warehouse workers in Bessemer, Alabama will begin voting by mail on whether to be represented by the Retail, Wholesale Department Store Workers Union (RWDSU). The harsh working conditions at Amazon warehouses, along with Amazon's refusal to adopt measures that protect workers from COVID 19, have pushed Amazon and Whole Foods workers every- where to step up organizing and fighting back.
These predominantly Black workers who have in recent months formed the BAmazon Workers Union, are on the cusp of launching a history-changing workers organization against one of the biggest and most powerful transnational corporations in the world, and its super rich union busting owner, Jeff Bezos. In addition, these workers are standing up to the racist, anti-union laws that suppress labor across the South.
Solidarity from every corner of the labor and progressive movements is needed now to show the workers in Bessemer that they are not alone, that all eyes are on the historic struggle that they are leading. This is especially needed as Amazon ramps up their union-busting tactics.
Solidarity actions are being planned across the South and the U.S. on February 20 at Amazon facilities (warehouses, distribution centers, Whole Foods, etc.). 
See below for an initial listing of actions planned. If you would like to organize an action in your area, please email info@southernworker.org with details of what you're planning.
An up to date list of actions, toolkits and other materials will be maintained at https://southernworker.org/amazon
Southern Workers Assembly Statements
The Feb 20, National Day of Action in solidarity with the Bessemer, Alabama Amazon workers, was a national call to action to support organizing the South.  Thanks to the many who organized and participated in solidarity actions. The Bessemer workers launched their...
read more
February 20 – National Day of Solidarity with RWDSU in Bessemer
Alabama
BIRMINGHAM, AL

5pm Virtual Block Party
HUNTSVILLE, AL

12pm Picket
Whole Foods, 2501 S Memorial Pkwy, Huntsville, AL 35801
Contact Tennessee Valley Progressive Alliance at tvprogressives@gmail.com
MONTGOMERY, AL

12pm
Whole Foods at 1450 Taylor Road, Montgomery, AL 36117
Contact Stef at stefbernalmartinez@gmail.com
Florida
ORLANDO, FL

12pm Rally
Whole Foods in Winter Park, 1030 N Orlando Ave, Orlando, FL 32789
Contact The Seeds at cammyorlando@aol.com or 407-883-9058
PENSACOLA, FL

2pm Rally
Florida Square, 602 N Palafox St., Pensacola, FL 32501
Contact Devin Cole at not.devin.cole@gmail.com
Georgia
ATLANTA, GA
12 – 1:30pm Rally
Whole Foods, 650 Ponce de Leon NE, Suite 400 (across from Ponce City Market), Atlanta, GA 30308
Contact AmazonWorkersSolidarityNetwork@gmail.com
Kentucky
LEXINGTON, KY

9am Rally
Whole Foods, 4059 Finn Way, Lexington, KY
Contact Ethan McCune at ethanmccune1@gmail.com  or 859-404-8361
Louisiana
ELMWOOD, LA (New Orleans)

4pm – Car caravan gathering at Whole Foods on Broad St in New Orleans, leaving at 5pm
CARAVAN HEADS TO:
5:30 – 7pm Rally
5733 Citrus Blvd, Elmwood, LA
Contact Meg Maloney at 504-444-9096 or margaretskyethomasmaloney@gmail.com
NEW ORLEANS, LA
12pm Rally
Whole Foods, 300 N Broad St, New Orleans, LA
Contact New Orleans Peoples Assembly at peoplesassemblynola@gmail.com
Mississippi
*Cancelled due to extreme weather*
JACKSON, MS
12pm Rally
Whole Foods Market, 4500 I-55N, Jackson, MS
Contact Mississippi Rising Coalition at contactmsrising@gmail.com or 228-219-1548
North Carolina
ASHEVILLE, NC

5:30pm – 6:30pm Rally and Leafletting
DRT4 Amazon Delivery Station, 394 Fanning Fields Rd, Mills River, NC 28759
Contact Emma Hutchens at emma@justeconomicswnc.org
DURHAM
4:30pm – 5:30pm Rally and Leafletting
RDU5 Amazon Fulfillment Center at 1805 TW Alexander Dr, Durham, NC 27703
Contact Dante Strobino at 919-539-2051 or dante.strobino@ueunion.org
RALEIGH/GARNER, NC
5:15pm-6:30pm Rally and Leafletting
Amazon Distribution Center, 4851 Jones Sausage Road, Garner, NC 27529 (Meet near the North entrance at Calder St.)
Contact Lorri Nandrea at 715-303-8119 or raleighlaborwatch@gmail.com
CHARLOTTE, NC
4:00pm gather, 4:30pm rally, 5:00pm-6:00pm leafletting
Amazon Distribution Center, 10800 Old Dowd Rd, Charlotte, NC 2814
Contact Ashley Hawkins at 704-773-9558 or aeh100clt@gmail.com
KERNERSVILLE, NC
4:30pm – 5:30pm rally
GSO1 Amazon Fulfillment Center at 1656 Old Greensboro Rd, Kernersville, NC 27284
Contact Tara Rose at 734-709-3411 or taramccomb@gmail.com
South Carolina
CHARLESTON, SC
1pm – 2pm Rally
Whole Foods, 1125 Savannah Hwy, Charleston, SC 29407
Contact Leonard Riley at 843-830-4471 or lrileyjr@comcast.net
COLUMBIA, SC
4:30pm Rally
Amazon Fulfillment Center – CAE1 near the airport, 4400 12 St. Ext. West, Columbia, SC 29172
Contact Lawrence Moore at 803-238-0331 or lawmoore74@gmail.com
Tennessee
NASHVILLE, TN
12pm Rally
Whole Foods on Broadway, 1202 Broadway, Nashville, TN 37203
Contact Nashville Nonprofit Workers United at nwunashville@gmail.com
Texas

HOUSTON, TX
10:00am Rally and leafleting
Whole Foods, off Kirby Drive
Contact Mirinda Crissman at mirinda.crissman@gmail.com
Virginia
ARLINGTON, VA
11:30am Rally
Metropolitan Park, 1330 S Fair St, Arlington, VA 22202
Contact Nick Brown at team@karishmaforvirginia.com
CLEAR BROOK, VA
4:30pm – 6:00pm Rally and Leafletting
Amazon Fulfillment Center at 165 Business Blvd, Clear Brook, VA 22624
Contact Logan Davis (434) 964-7548 or lpdavis0529@gmail.com
CHESAPEAKE, VA
1PM rally
DOR1 Amazon FLEX Warehouse, 1920 Campostella Rd, Chesapeake, VA 23324
Contact Allie at experimental.allison@gmail.com
California
LOS ANGELES, CA
*Friday, Feb 19* 12:30pm Rally
Morgan, Lewis & Bockius office, 300 S Grand Ave, Los Angeles, CA 90071
Contact Los Angeles Workers Assembly at 323-306-6240
MONTEREY, CA
10am – 12pm Picket
Whole Foods, gather in front of Del Monte Shopping Center on Munras
Contact Monterey County Supporters of Bessemer Alabama at vpvhprince@gmail.com
OAKLAND, CA
12pm Speak-out and rally
Whole Foods Market, 230 Bay Place, Oakland, CA 94612
Contact Judy Greenspan at 510-813-4687 or judygreenspan1952@gmail.com
RICHMOND, CA
4pm Car caravan and rally
Gather at Walmart at Richmond Hilltop Mall Parking Lot, 1400 Hilltop Mall Rd, Richmond, CA 94806
Contact Aleta Toure at aleta@alum.mit.edu
SAN DIEGO, CA
12pm Rally & Leafletting
Whole Foods, 711 University Ave, San Diego, CA 92103
Contact Left Flank Veterans at leftflankvets@gmail.com or 619-346-2156
SAN FRANCISCO, CA
12pm Rally & Speakout
Whole Foods, 3950 24th Street, San Francisco, CA 94114
Contact United Front Committee For Labor Party at committeeforlaborparty@gmail.com
SAN LUIS OBISPO , CA
12pm Rally
Whole Foods, 1531 Froom Ranch Way, San Luis Obispo, CA
Contact Loni Kirk at loni.kirk@gmail.com or 805-441-3823
Connecticut
NORTH HAVEN, CT

3pm Rally
Amazon Facility, 409 Washington Ave, North Haven, CT 06473
Contact Hutch 860-967-9836 or cwcr.ct@gmail.com
Illinois
CHICAGO, IL

2pm Picket
3201 N Ashland Ave, Chicago, IL 60657
Contact Working Class & Democracy in the Workplace at designcjt@gmail.com or 810-887-8494
Maryland
BALTIMORE, MD
3pm Car caravan & Socially-distanced march to Amazon, Gather at 20th & N. Charles
MARCH TO:
4:15pm – 5:30pm Rally and march to nearby overpass
DCA6 Amazon Fulfillment Center, 6001 Bethlehem Blvd, Baltimore, MD
Contact Remi Debs-Bruno at 410-501-7608 or remi.bruno@protonmail.com
SILVER SPRING, MD
1pm  Picket
Whole Foods Market, 833 Wayne Ave, Silver Spring, MD

Contact Jay Ulfelder at ulfelder@gmail.com
Massachusetts
GREENFIELD, MA
10am  Rally
Greenfield Common, Hadley, MA
Contact Western Mass. CodePink Women for Peace & Racial Justice Rising at 413-665-8246
HADLEY, MA
11am  Rally
Whole Foods Market, Rt 9, Hadley, MA
Contact Western Mass. CodePink Women for Peace & Racial Justice Rising at 413-665-8246
JAMAICA PLAIN, MA
1pm  Rally
Whole Foods Market, 413 Centre St, Jamaica Plain, MA 02130
Contact Team Solidarity / Boston School Bus Drivers Union USW Local 8751 at info@usw8751.org
Michigan
ANN ARBOR, MI
1:30pm  Leafletting
Whole Foods Market, 3135 Washtenaw Ave (close to intersection with Hurm Prkwy), Ann Arbor, MI
Contact Washtenaw Reds at washtenawreds@gmail.com
GRAND RAPIDS, MI
*Friday, Feb 19* – 4:30pm Press conference & Car caravan
IATSE Local 26 Lot, 931 Bridge St NW, Grand Rapids, MI 49504
Contact Communities and Postal Workers United at davestaiger@gmail.com or 269-548-8919
New Jersey

BELLMAWR, NJ
1pm Rally
Benigo Blvd, Bellmawr, NJ

Contact Green Party of New Jersey, New Labor, Young Ecosocialists at dmoxleylaw@gmail.com or 908-821-7057

CARTERET, NJ
12:30pm Car caravan
Convene at: 8003 Industrial Hwy, Carteret, NJ
Contact New Jersey Movement for a Peoples Party at peoplespartynewjersey@gmail.com or 973-487-8218

New York
BUFFALO, NY (Amherst)

2pm rally
Whole Foods, 3139 Sheridan Dr, Amherst, NY 14226
Contact Nigel Bouvart at nbouvart@gmail.com
NEW YORK CITY, NY
1:00pm rally
Across from Bezo's-owned Whole Foods, Union Square
Initiated by Workers Assembly Against Racism – http://shutdownracism.org
Contact workersassemblyagainstracismnyc@solidaritymail.org or via Instagram at @waar.nyc
EAST BROOKLYN, NY
1:00pm rally
Amazon Facility, 2300 Linden Blvd (corner of Linden Blvd and Essex)
Contact December 12 Movement at d12m@aol.com or 718-398-1766
Ohio
CINCINNATI, OH
3pm rally
241 Calhoun Street, Cincinnati, OH
Contact Cincinnati Interfaith Workers Center at info@cworkers.org
CLEVELAND, OH
12:00pm rally
Site of future Amazon Hub, 10801 Madison, Cleveland OH 44102
Contact Martha Grevatt at 216-534-6435 or grevatt.m@gmail.com
Oregon
TROUTDALE, OR
1:00pm rally
Amazon PDX9 Fulfillment Center, 1250 NW Swigert Way, Troutdale, OR 97060
Contact amazonsolidarity@protonmail.com
Pennsylvania
PHILADELPHIA, PA
Rally at 2pm
Amazon Union Busting Law Firm, Morgan, Lewis, & Bockius at 1701 Market Street
Contact Scott Williams at 919-794-1429 or thescott0730@gmail.com
PITTSBURGH, PA
12pm Facebook Live event
Utah
SALT LAKE CITY, UT

2pm Picket
Whole Foods Market – Sugar House, 1131 Wilmington Ave, Salt Lake City, UT 84106
Contact Utah IWW at hello@utahiww.org
Washington
SEATTLE, WA

2pm Rally and march
Gather at Washington Multi-Family Housing Association, 711 Powell Ave SW, Renton, WA
Contact Solidarity with Amazon Workers Coalition at sleigh1917@gmail.com or 206-380-5823

SEATTLE, WA

5:30pm Car caravan and bike brigade
Gather at The Amazon Spheres, 2111 7th Ave, Seattle, WA 98121
Contact Tax Amazon Coalition at danpkav@gmail.com or 816-868-0018

Wisconsin
ASHLAND, WI

12pm Rally
Court House, 201 W Main St, Ashland, WI 54806
Contact Elise Kehle at ekehle1972@gmail.com
To download any of the placards below, click on the image and a pdf will be opened in a new window.
TIPS on Printing:
1. Print out basic 8.5×11 "Letter" PDF
2. Enlarge top half to 200% (this will convert to 11 x18 "tabloid")
3. Spin 180% and enlarge bottom half to 200% (this will convert to 11 x18 "tabloid")
4.  This should produce two tabloids that you can stack to make a 22″ x 18″ sign
5.  Staple on regular sized poster board (might want to trim few inches from border)
Leaflets and Press Materials
Southern Workers Send Solidarity