Solidarity with Bessemer, Alabama Amazon Workers!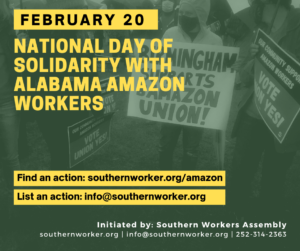 Between Feb 8, and March 29, approximately 6,000 Amazon warehouse workers in Bessemer, Alabama will begin voting by mail on whether to be represented by the Retail, Wholesale Department Store Workers Union (RWDSU). The harsh working conditions at Amazon warehouses, along with Amazon's refusal to adopt measures that protect workers from COVID 19, have pushed Amazon and Whole Foods workers every- where to step up organizing and fighting back.
These predominantly Black workers who have in recent months formed the BAmazon Workers Union, are on the cusp of launching a history-changing workers organization against one of the biggest and most powerful transnational corporations in the world, and its super rich union busting owner, Jeff Bezos. In addition, these workers are standing up to the racist, anti-union laws that suppress labor across the South.
Solidarity from every corner of the labor and progressive movements is needed now to show the workers in Bessemer that they are not alone, that all eyes are on the historic struggle that they are leading. This is especially needed as Amazon ramps up their union-busting tactics.
See below for upcoming solidarity actions in the South. If you would like to organize an action in your area, please email info@southernworker.org with details of what you're planning.
Southern Workers Assembly Statements
All congratulations to the good workers who led the ALU to its Labor Board election victory in Staten Island New York. Yours is an inspiring example of rank and file worker self-organization to improve working conditions and change corporate policies.  The SWA will...
read more
Upcoming Solidarity Actions in the South
March 20
Alabama
BIRMINGHAM, AL

10am – 1pm: Community Canvass
1pm BAmazon Day of Action
2pm – 5pm: Community Canvass
RWDSU Union Hall, 1901 10th Ave South, Birmingham, AL 35205
Contact Birmingham DSA at bhamdsa@gmail.com
Arkansas
FAYETTEVILLE, AR

1:30pm Rally
Whole Foods, 3425 N College Ave, Fayetteville, AR 72703
Contact NWA Socialist Alternative at arkansasSA@gmail.com
Florida
PENSACOLA, FL

*March 21* 2pm Rally
Amazon Hub, 8792 Ely Rd, Pensacola, FL 32514
Contact Workers World Party – Central Gulf Coast at not.devin.cole@gmail.com
Georgia
ATLANTA, GA

12pm Rally
Gather at the intersection of N. Commerce and Camp Creek Parkway (across from Camp Creek Mall), East Point, GA
Initiated by ATL Amazon Workers Solidarity Network, Atlanta-N. Georgia Labor Council, Atlanta Coalition of Black Trade Unionists
Contact ATL Amazon Workers Solidarity Network at atlanta@supportamazonworkers.org
North Carolina

DURHAM, NC

1pm Rally
Meet at 1pm and Park at 2945 S. Miami Blvd Shopping Center, Durham, NC
1:30pm – Rally at 1805 TW Alexander Dr, Durham, NC
Contact Dante Strobino at dantestrobino@gmail.com or 919-539-2051
KERNERSVILLE, NC

5:30pm Rally
Amazon Warehouse, 1656 Old Greensboro Rd, Kernersville, NC 27284
Contact Winston-Salem DSA at taramccomb@gmail.com or 734-709-3411
South Carolina
CHARLESTON, SC
1pm – 2pm Rally
Whole Foods, 1125 Savannah Hwy, Charleston, SC 29407
Contact Leonard Riley at 843-830-4471 or lrileyjr@comcast.net
COLUMBIA, SC
4pm Rally
Whole Foods, 702 Cross Hill Road, Columbia, SC 29205
Contact Lawrence Moore at 803-238-0331 or lawmoore74@gmail.com
Texas
DALLAS, TX

1pm Rally
1301 Chalk Hill Road, Dallas, TX
Contact North Texas Socialist Alternative at socialistaltntx@gmail.com or 774-264-1364
HOUSTON, TX

1pm Rally & Picket
Amazon Delivery Station, S Lockwood and Munger St, Houston, Texas 77019
Contact Socialist Alternative Houston at socialistalternativehouston@gmail.com or 281-635-5286
HOUSTON, TX

*Sun, March 21* 12pm Picket
Whole Foods, 701 Waugh Drive, Houston, Texas 77019
Contact Workers World Party – Houston at houston@workers.org or 713-503-2633
SAN ANTONIO, TX

12pm Picket
Whole Foods @ the Quarry, 255 E Basse Rd, San Antonio, Texas
Contact Teresa Gutierrez at teresalatejana@gmail.com
Other Activities
To download any of the placards below, click on the image and a pdf will be opened in a new window.
TIPS on Printing:
1. Print out basic 8.5×11 "Letter" PDF
2. Enlarge top half to 200% (this will convert to 11 x18 "tabloid")
3. Spin 180% and enlarge bottom half to 200% (this will convert to 11 x18 "tabloid")
4.  This should produce two tabloids that you can stack to make a 22″ x 18″ sign
5.  Staple on regular sized poster board (might want to trim few inches from border)
Leaflets and Press Materials
Southern Workers Send Solidarity